New CD: Out of the Blue
"A fun bent note swagger in his playing."Cadence Magazine"
This quote sums up quite well that the Blues influence is prevalent in James's playing.
Given the fact that he had his own rhythm and blues group in high school, this is not surprising. There are three blues forms on this CD, all are James's compositions. The first piece, "Out of the Blue" demonstrates some of this influence. The CD features fine solo work of Bassist Seaton and excellent drumming by Andrew Griffith. Number four on the CD is a medium tempo Blues which demonstrates Shannon's versatility via finger style solo guitar.

James Shannon, Guitar
Lynn Seaton, Bass
Andrew Griffith, Drums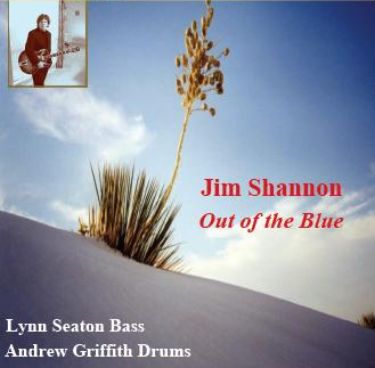 Latest Cadence Magazine review:
"Might seem simple-a guitar / bass / drums trio-but as Monk is supposed to have said, "Simple ain't easy." Shannon is a fine, mobile guitarist with an attractive sound and an easy way with an improvised line: he reminded me of Herb Ellis in his melodic ways, Wes Montgomery in his octaves. He doesn't affect a harsh sound, and he doesn't fill every bar with notes. Shannon can also construct sweet chordal passages, as in his introduction to "Who Can I Turn To?" Seaton offers this trio a large woody sound, and drummer Griffith is responsive to the music and his colleagues. Entertaining music that will please the non-Jazz listener as well as the guitar fancier.
Michael Steinman
Cadence Jazz Magazine
April May June 2010 Issue
Listen to music from "Out of the Blue"
All songs are in the MP3 format
James Shannon Trio(Out of the Blue)
Out of the Blue
Who Can I Turn To
Whats New.Trio
Three Four for Flo

James Shannon Quartet Vid in Concert
click here.

Please click below and check out the video and samples on the Groups page!
Groups Page)